Hotels on
Na'ama Bay
The main beach of Na'ama Bay is lined with hotels, and there are hotels at both ends beyond the sandy beach.
Here are just a selection of key hotels covering different types of accommodation in the bay.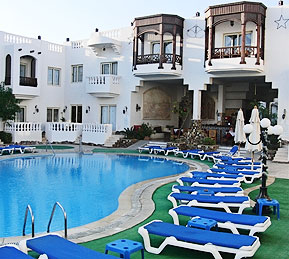 Oriental Rivoli - This quiet hotel, pictured, is set back from the beach but within easy walking distance of all the major facilities of the bay.
Delta Sharm Hotel is near the centre of the beach and is an excellent choice.
Marriott Hotel and Resort - One of the most modern resorts in the bay with a fantastic pool area, beautiful private beach and exceptional food from the 5 star restaurants.
Sofitel Hotel - Beyond the east end of the beach and overlooks the bay from the hill on the promontory, and has its own private sandy bays which are not connected to the main part of Na'ama Bay.
Iberotel Lido - is on the southern end of the bay.
There is also a Public Beach, well marked and signed, which is open to all regardless of which hotel they are staying at, and for a small fee sun loungers and umbrellas can be rented.
Although Na'ama Bay is a small area, and has plenty of accommodation, it is also extremely close to the town of Sharm el-Sheikh, the resorts of Sharks Bay and beyond. So do consider also hotels in the neighbouring areas.